The Centers for Medicare & Medicaid Services (CMS) reviews and updates ICD-10-CM Official Guidelines for Coding and Reporting on an annual basis to ensure accurate and consistent coding practices. These guidelines are applicable starting from October 1, 2023, and ending on September 30, 2024. The update includes the addition, revision, and deletion of diagnosis codes as well as updates to diagnosis coding guidance.
The Patient-Driven Payment Model (PDPM) implemented on October 1, 2019, has been the methodology for Medicare Part A reimbursement in the Skilled Nursing Facility (SNF) since that time. SNFs must use the FY 2024 PDPM ICD-10 Mapping, which went into effect on October 1, 2023. This mapping is a list of diagnoses used to classify a resident into one of the ten PDPM Clinical Categories and to determine their comorbidities based on their reported active diagnoses. It is important to note that certain ICD-10-CM codes may have been classified as Return to Provider (RTP) codes in the PDPM ICD-10 Mapping. These codes cannot be used as the primary ICD-10-CM for the Medicare Part A stay in the SNF, as reported in the Minimum Data Set (MDS) item I0020B.
Here are some changes:
Chapter 1: Certain Infectious and Parasitic Diseases
Added language "following postprocedural wound (surgical site)" for Sepsis due to a postprocedural infection – if the site of the infection is known, it should be sequenced first.
Z11.5, COVID-19 screening, can now be used for preoperative screening as well, which was not appropriate during the pandemic.
Chapter 5 – Mental, Behavioral, and Neurodevelopmental Disorders
F05 codes, delirium due to a known physiological condition – new guidance states must Code First the underlying physiological condition, such as dementia, F03.9–.
Chapter 6 – Diseases of the Nervous System
new subcategories and codes have been introduced to report chronic migraine headaches and distinguish between manageable and unmanageable pain.
Parkinson's Disease (PD) – The National Institutes of Health describes PD as a chronic and progressive neurological disease that is marked by tremors in the resting muscles, rigidity, slowness of movement, impaired balance, and a shuffling gait. In addition, many people with PD develop non-motor symptoms such as behavioral changes and cognitive impairment.

new codes to reflect specific symptoms
provider's documentation must note Parkinson's with dyskinesia and without this symptom

Parkinsonism – According to the Parkinson's Foundation, Parkinsonism is a general term that refers to a group of neurological disorders that cause movement problems similar to those seen in Parkinson's disease, such as tremors, slow movement, and stiffness. Also known as atypical Parkinson's disease or Parkinson's plus.
Types – Drug-induced Parkinsonism; Progressive Supranuclear Palsy (PSP); Vascular Parkinsonism; Dementia with Lewy Bodies; Corticobasal Degeneration.
G20.C, Parkinsonism, unspecified – new code.
Chapter 8: Diseases of the Ear and Mastoid Process
New codes related to Sickle-Cell Retinopathy.
Chapter 9: Diseases of the Circulatory System
Includes revised codes indicating supra-celiac and Paravisceral aneurysms of the abdominal aorta with rupture/without rupture.
The term abdominal aorta is now revised to state thoracoabdominal aorta specifically.
Chapter 10 – Diseases of the Respiratory System
J44.89, Chronic Obstructive Pulmonary Disease (COPD) with asthma or bronchitis – new code.
Chapter 13 – Diseases of the Musculoskeletal System and Connective Tissue
Has 42 new codes to describe further and specify osteoporosis with pathological fracture.
The following are some ICD-10-CM that have been reclassified based on the FY 2024 PDPM ICD-10 Mapping.
| | | | |
| --- | --- | --- | --- |
| ICD-10-CM Code | Description | FY 2023 Default Clinical Category | FY 2024 Default Clinical Category |
| D75.84 | Other Platelet-activating anti-platelet factor 4 disorders | Return to Provider | Medical Management |
| F43.81 | Prolonged grief | Medical Management | Return to Provider |
| F43.89 | Other reactions to severe stress | Medical Management | Return to Provider |
| G90.A | Postural orthostatic tachycardia syndrome (POTS) | Acute Neurologic | Medical Management |
| K76.82 | Hepatic encephalopathy | Return to Provider | Medical Management |
Several unspecified Substance Use Disorder (SUD) Codes are reclassified from Medical Management to Return to Provider.
It was previously mentioned that the new Parkinson's Disease, with or without dyskinesia, and the Parkinsonism ICD-10-CM codes would be classified under the PDPM Speech Language Pathology (SLP) Comorbidity. However, as of the revision posted on September 19, 2023, these diagnoses were not included in the SLP Comorbidity for FY 2024 PDPM ICD-10 Mapping.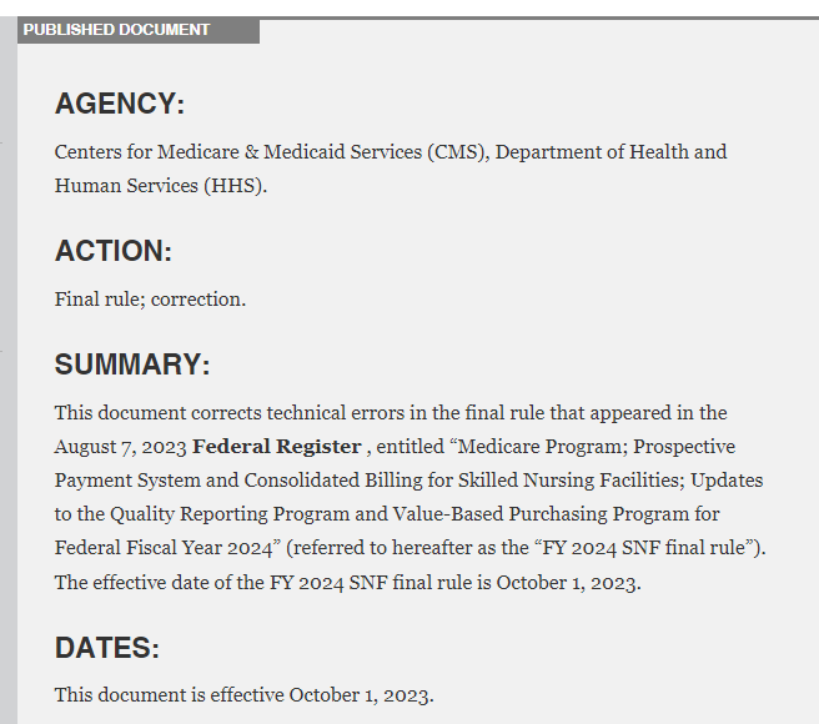 https://www.federalregister.gov/documents/2023/10/04/2023-22050/medicare-program-prospective-payment-system-and-consolidated-billing-for-skilled-nursing-facilities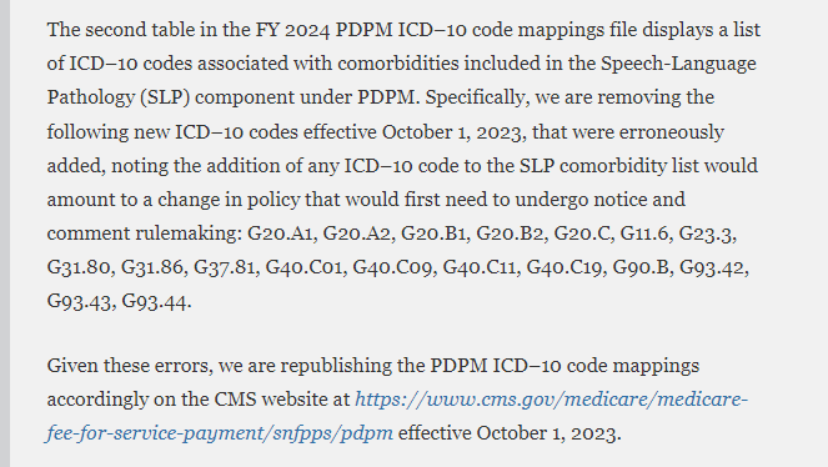 As October 2023 has arrived, there are many changes and updates to be aware of. One key aspect of the preparation is providing adequate education and training for all appropriate staff. It may involve training sessions or seminars, as well as providing access to relevant resources and materials needed to support the updated processes. This could include an updated ICD-10-CM coding manual, as well as any other relevant software or tools that may be required. It is also important to engage in ongoing communication with physicians by holding regular meetings or ongoing discussions to review any updates or changes on the resident's active diagnoses as necessary. Additionally, be sure to check with your facility's EMR vendor to confirm that the ICD-10-CM changes will be in effect on October 1. This will ensure that the software is fully aligned with the latest requirements and guidelines.
These modifications are essential to ensure accurate and consistent coding of medical diagnoses and procedures, which in turn facilitates proper reimbursement and improves patient care outcomes.
Accurate and consistent coding of medical diagnoses is crucial. It helps to ensure facilities receive proper reimbursement for their services, which in turn allows them to continue providing quality care to patients. Additionally, accurate coding also improves patient care outcomes by facilitating easy access to relevant medical information and promoting efficient communication between healthcare providers.
LW Consulting, Inc. (LWCI) offers a comprehensive range of services that can assist your organization in maintaining compliance, identifying trends, providing education and training, or conducting documentation and coding audits. For more information, contact LWCI to connect with one of our experts!